Improve your city's image by putting your most effective advocates to work on your behalf – your people.
Improve your region's image and attract economic development
Activate grassroots support around a
new initiative
Mobilize employees and community leaders to advocate for your community
Why Advocate Boot Camp™?
You have big plans for your community, but you need someone to bring your message to the masses. By training city employees, community leaders, and activists to advocate on your behalf, you will demonstrate broad support for your initiative, improve the image of your community, and improve your odds of success.
Advocacy Training
Train city employees, local business leaders, and community activists to champion your community and promote the benefits of the city to potential investors
Opportunity-Specific Outreach
Launch a grassroots campaign to help your community win proposals or other awards, and train advocates to direct their efforts toward specific economic development opportunities
City Ambassadors
Equip community and business leaders with the information and resources to become local ambassadors; promoting important city programs and initiatives
We work directly with you to develop effective talking points and strategic messaging that will serve as the foundation for each training session. In addition, city leaders can participate as guest speakers, giving them direct "face time" with trained advocates.
Employees and community leaders benefit by becoming trained in new techniques and invested in the city's success
Businesses benefit from exposure to trained advocates through sponsorships and the resulting economic development, a larger customer base, and increased revenue
The city benefits through increased public support for important initiatives and higher revenues as a result of greater economic growth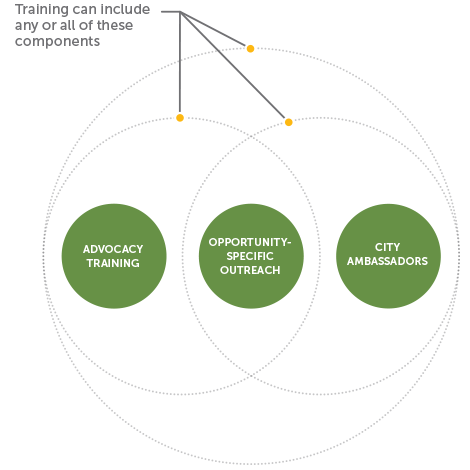 Fee Options
If you want to get the most impact for your public affairs budget, Advocate Boot Camp™ is the solution. We offer several options to help you effectively leverage limited resources.
Option 1 - Fixed-fee
City pays the full cost of the training and sponsors its desired number of attendees to participate. In this case, Wise Public Affairs will submit a proposal to the city government, local agency, or Mayor's office with a fixed fee.
Option 2 - Sponsor-based
Local business sponsors cover the cost of the event in exchange for advertising opportunities during the training. This is at NO COST to the city.
Option 3 - Hybrid/Subsidy
City provides partial sponsorship and/or the option to have participants register and pay for the training individually.